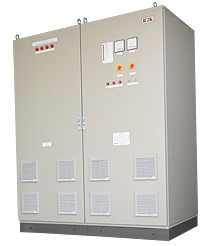 These systems are the base supply for all telecom equipment, Process Control, Emergency Lighting, Switch Gear Protection, Engine Starting and Power Station Control that require DC supply.
Telecom rectifiers/chargers are known to use 48V DC output supply to feed the telecom equipment with DC power and at the same time charge a huge battery bank to ensure at least 6 hours of back up time to the connected equipments in case of main power failure.
Telecom rectifiers/chargers uses IGBT based power factor correction (PFC) systems to ensure best compatibility and minor effect on the input electrical network. Those systems are designed based on modular technology in N+1 configuration that ensure the redundancy of modules in case of any possible failure in one of the modules.
Industrial rectifiers / chargers are available in a wide range so it can be supplied in voltage outputs up to 500VDC and current outputs up to 1500Amps and they uses Thyristor switching principle for achieving the desired DC output. The sophisticated power electronics, superior design and high quality standards ensure absolute reliability of the offered products enables it to meet the specific requirements of our customers.